Chrysalis DBA/Dream Catcher Balloon is a 501(c)(3) non profit organization #91-1269988 and gives rides to everyone, including mobility challenged individuals, Veterans & Warriors, and seniors.
We are similar to a chair lift with a 5 point harness. Everyone is invited to ride, however those who are mobility challenged (wheelchair, walker, amputee) can transfer or sit onto the seat next to the pilot and ride up to 25' on a tethered hot air balloon ride.
The Dream Catcher Balloon is kept from flying free with 3 ropes secured to the ground which keeps the aircraft easily managed and in one place.
We focus primarily on group events from one and a half to two hours in duration, giving the opportunity for as many as 50 individuals to experience a Dream Flight. Each person who rides in the Dream Catcher Balloon must sign a waiver (those who cannot sign may have their caregiver or family member represent them) and receives a Dream Catcher button upon completion of their accomplishment.
Dream Catcher is available for free and untethered flights for those who meet the Free Fly Parameters.
---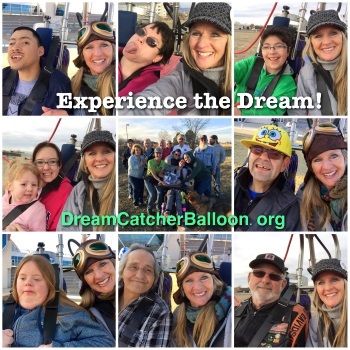 We are able to travel via DreamLiner and have given approximately 400 individuals in the U.S. a joyous hot air balloon ride since our first trip to Albuquerque in October 2015. Since then we have traveled as a "make a wish" program to New Mexico, Colorado and Washington. We are fully funded by donations and volunteers.
---
---
Lubao International Balloon and Music Festival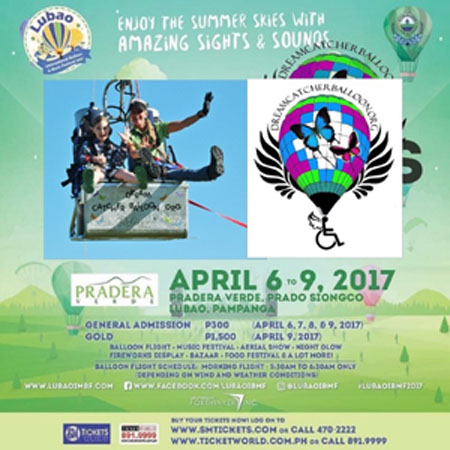 On April 1, 2017 Dream Catcher Balloon became an international program with its introduction in Lubao, Philippines and the largest hot air balloon event in Asia. This is an exciting event which was completely funded by the people of Lubao, and we are just beginning to grow.